Wideline products are manufactured from the most suitable materials and finishes available and when properly maintained, will give many years of quality service.
Read our guide to maintaining your aluminium products, timber products, glass and screens.
Before cleaning external surfaces, be mindful of any water restrictions that may be in effect and prepare accordingly. Check with your local council if unsure.
Aluminium
A good general rule is that aluminium should be washed to remove dirt deposits as often as it is necessary to wash windows.
Aluminium requires only minimum maintenance, but, like your motor car, the finish may deteriorate if dirt, which collects on the surface, is allowed to remain unwashed over a period of time. This is because dirt absorbs moisture present in the atmosphere.
Moisture can contain salt near the ocean or other impurities in industrial areas, and it is the combination of dirt and contaminated moisture that can cause deterioration of almost any surface finish.
In rural areas where normally there is very little contaminated moisture, you may not need to clean your aluminium fittings more than every six months. In industrial and coastal areas, washing at intervals of one to three months may be required – or even more frequently in locations close to the ocean or in heavily polluted industrial areas, especially where the windows or other product is sheltered from the washing effects of rain. In severe coastal areas, washing at intervals of one to two weeks may be required.
To clean aluminium use the mildest treatment you can which produces satisfactory results.
Start with warm water, with soap or detergent; on anodised material try solvent cleaners (eg kerosene, turpentine, white spirit); or non-etching chemical cleaners; or a wax-based polish cleaner.
NEVER use harsh liquid chemicals, abrasive cleaners or wire wool.
Timber Products
Wideline timber products are delivered ready for surface treatment. Raw (untreated) timber should be protected from water (including high humidity) prior to surface finishing to prevent staining, warping, swelling, etc and a high quality surface finish should be applied as soon as possible, following the manufacturers directions.
Primer alone will not provide adequate protection to the timber. This surface finish coating should then be maintained in good condition on both internal and external faces. This can be achieved by regular cleaning with nonabrasive cleaners and refinishing when breakdown of the coating occurs.
Applied coatings and refinishing must include all edges of doors including top and bottom. Steel wool or other metallic abrasives must not be used to sand cedar and other fine grain timbers. Use fine grit sandpaper for sanding.
To avoid water staining, keep tracks and sash openings clean and free of leaves and other debris that may retain water. Ensure that the weep slots in windows and doors are kept clear to allow maximum drainage. We do not recommend the use of ordinary steel fasteners as these may corrode which will result in unremovable stains.
Windows and doors facing direct sunlight should be painted in light reflective colours. Windows and doors painted or stained dark colours or different colours on each face may warp which would void the Manufacturers Warranty. All edges should be sealed including top and bottom edges.
Please consult a professional painter for advice on under-coating and painting standards. Some timber products require a further drying period before being painted and your painter can assist you with this.
Glass
With all your window and door care, make sure you use a soft cloth that will not scratch any surfaces. To clean glass, always use a mild detergent that is specifically designed for use with glass and steer clear of any products that will introduce grit as this can cause scratches.
Avoid causing extreme temperature changes as this may lead to thermal fracture of the glass (i.e. do not direct hot or cold water onto glass).
Use cleaning products such as Windex® Multi-Surface Cleaner (colourless liquid) or a mixture of one part vinegar and ten parts water.  Also avoid any cleaners which contain Hydrofluoric or Phosphoric acid as they are corrosive to glass surfaces.
ComfortPlus™
ComfortPlus™ glass is not like any other type of glass as it is laminated with a thermal film. As such, it should not be treated the same as other glass when it comes to care and maintenance.
Routine cleaning: the coated (interior) surface of Viridian ComfortPlus™ can be easily cleaned by hand to remove accumulated dust or fingerprints. This can be accomplished with various glass cleaning products.
As the exterior surface of the glass is not coated it can be cleaned in the same way as ordinary glass. Commercial vinegar-based products usually provide a streak-free glass surface. So does a mixture of one part vinegar with ten parts water.
Viridian, manufacturers of ComfortPlus™ glass, do not recommend the use of ammonia or alcohol based glass cleaners because they tend to leave visible streaks.
Internal cleaning procedure:
Flood the glass surface with the spray-on cleaning solution or apply with a cloth saturated with the cleaning solution. Be generous with the amount of solution applied
Scrub the wetted surface with a clean, lint-free towel
Wipe dry with a clean, lint-free towel or cloth – do not squeegee on the ComfortPlus™ coated (interior) surface.
To prevent streaking, stop wiping when the glass is almost dry and there is a slight, uniform film of moisture left on the glass surface
Polish the surface dry with a soft, lint free cloth.  Ensure that all cleaning cloths are free of any abrasive substances.
Spot Cleaning ComfortPlus™
This may occasionally be required to remove any stubborn dirt or foreign materials that adhere to the Viridian ComfortPlus™ surface. Spot cleaning products remove marks from grease, oil, tape adhesive, crayons, waxy materials, paint and rub-off marks from plastics. We recommend Acetone, a solvent available from most hardware stores.
Spot Cleaning Procedure:
Apply a small quantity of the cleaner listed above to clean, wet cloth or towel
Rub onto areas of glass needing spot cleaning
Wipe clean using a dry, clean lint-free towel or cloth followed by the normal internal cleaning procedure.
Specialised Cleaning ComfortPlus™
Do not use razor blades, steel wool or other metallic objects on the Viridian ComfortPlus™ surface. If metallic objects contact the coated surface, a thin layer of metal removed from the object may be deposited onto it; this results in a discoloured stain which is difficult to remove with normal cleaning products. We recommend hydrochloric acid, available from hardware stores.
Specialised Cleaning Procedure
Carefully follow the chemical manufacturer's safety instructions
Apply a small quantity of the specialised cleaning product listed above to a wet cloth or towel – a cotton bud may be used for thin marks
Rub on areas of glass that need cleaning
Wipe clean using a dry, clean lint-free towel or cloth followed by routine cleaning procedure
Ensure that the cleaning solution does not come into contact with framing materials.
Cleaning Screens
To clean flyscreens they can be removed and rinsed gently with a garden hose. Be careful not to use too much pressure though, as that can stretch the fly screen or pull the edges out of their housing. Scrub the screens with a soft bristled brush and warm soapy water. Wash both sides of the screen.
SecureLine™ powdercoated mesh screens will need to be washed with a sponge and bucket, instead of a hose. Before starting to clean fixed screens, lay towels on the floor or window sill so that you can carefully wipe the inside of the screen as well as the outside of the screen.
How close you reside to coastal waters will determine how regularly washing of the screens will be required. If not properly maintained the effects of the salt air will build up and in time cause the mesh to corrode. Corrosion, wear, or failure of standard components in seacoast applications is not covered under this warranty. See the table below for a guideline on effective maintenance:
Environmental Condititions
Recommended Maximum Cleaning Interval
MILD
- Greater than 10km radius of an oceanfront
- Rural/suburban
Every 6 months
MODERATE
- Within 5km to 10km radius of an oceanfront or saline bay
- Coastal, River, Pool
Every 2 to 3 months
MARINE
- Within 500m to 5km radius of oceanfront or saline bay
- Industrial
Every 2 to 4 weeks
SEVERE MARINE
- Within 500m radius of an oceanfront or saline bay
- Heavy Industrial, Quarries etc.
Every 1 to 2 weeks
Have a question?
For any specific information on how to best care for your Wideline windows and door products, call our team on 1300 943 354 or use the online Enquiry form.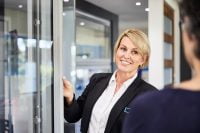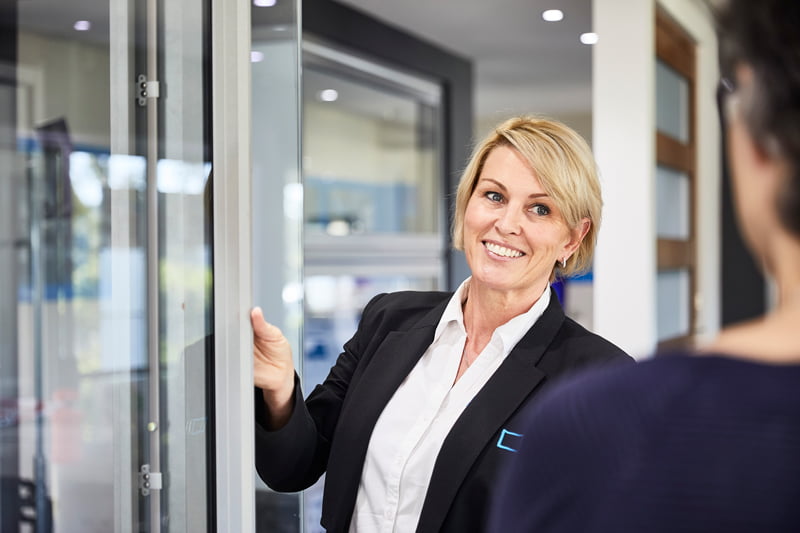 Find inspiration at a Wideline Showroom
Take a closer look at our stylish window and door Showrooms. Discover a vast range of products and design options.