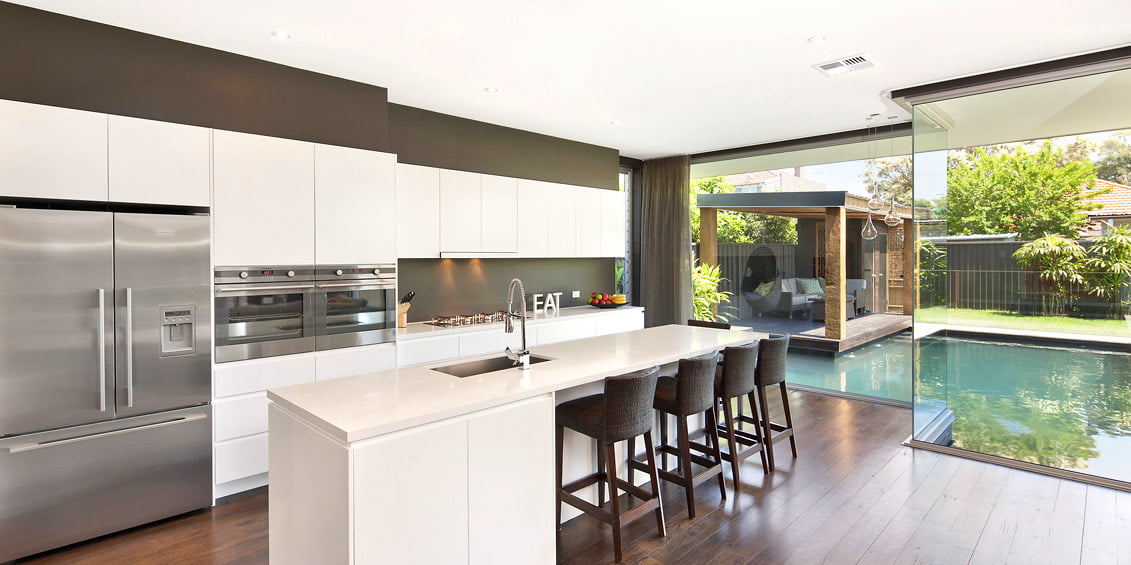 Bring the outside in all year round
Building your new home or renovating according to Biophilic design principles can turn an ordinary house into an elegant showpiece and improve your quality of life.
Imagine a wall of floor-to-ceiling windows framing a stunning panoramic view. It may be a brilliant sunset, a bushland setting, or crashing ocean waves. Even if your vista is not quite as spectacular, floor-to-ceiling windows can still offer the opportunity to connect with a garden or a flower-packed back yard.
Have you ever stopped to consider why homes with a strong visual connection to nature and an abundance of natural light seem so inviting?
Biophilia, a term coined by psychoanalyst Erich Fromm, suggests that it's because humans are biologically programmed to seek connections with nature. Fromm concludes, "We have a passionate love of life and of all that is alive".
Research has shown that our physiological responses triggered by connections with nature can include the relaxation of muscles, as well as a lowering of diastolic blood pressure and stress hormone levels.
That's where Biophilic design comes in. It articulates the relationships between nature, human biology and the design of the built environment. It asserts that a strong connection to nature in our homes can invigorate our mood, enhance creativity and clarity of thought, improve our well-being and even speed healing.
Now architects and interior designers are starting to see the light too and are incorporating Biophilic principles into their house designs. Some of these principles include:
1. A Visual Connection with Nature
Ensure a view to elements of nature, living systems and natural processes.
Imagine witnessing the changing colours of a stormy sky as you sit snug behind a protective glass wall When you've invested in a view or outdoor area, you should be able to enjoy it indoors, in all types of weather.
Wideline fixed floor-to-ceiling windows can offer safe, insulated protection from the elements while affording every inch of your stunning interior views.
With the considered orientation of ceiling-to-floor windows, you will be able to direct the focus of attention within your space. Depending on the view, the effect could be stimulating or calming, enclosing or expansive.
Do you want to invite nature inside? Try Paragon cavity stacking doors. When opened, they are completely concealed within the wall cavity, creating unhindered access from your interior living spaces to outside entertainment spaces and gardens. Bi-fold doors are also a great option here, open them up the full span of the doorway for uninterrupted view and access.
A wall of Paragon architectural range or Ascend designer range fixed floor-to-ceiling windows can also be used as an internal divider, allowing separate spaces to connect, while maintaining an open atmosphere. Light is ushered into every nook and cranny through uninterrupted glass panels and the perception of small isolated spaces is avoided. Even tiny homes can look and feel more spacious and retain a sense of perspective.
2. Thermal & Airflow Variability
Facilitate subtle changes in air temperature, relative humidity, airflow across the skin, and surface temperatures that mimic natural environments.
House ventilation is important but often overlooked. Complementing your wide spans of fixed windows with an openable window gives you the benefits of style and comfort. Ascend powered louvres offer the most superior level of airflow. Paragon double-hung aluminium windows can be adjusted to control the amount of air flowing throughout your home.
Both double-hung and louvre windows can be made tall and narrow, ideal for both classic and contemporary interiors.
In winter, they can be opened to help moisture escape from the air, reducing the risk of condensation, a major contributor to mould growth. In summer, they can be adjusted to extract rising warm air and allow natural fresh air to enter, filling your home with the sweet aroma of plants and flowers from your garden.
As fresh air circulates throughout your house, it's refreshed with increased oxygen levels which can help improve your heart rate and your blood pressure.
3. Dynamic & Diffuse Light
Leverage varying intensities of light and shadow that change over time to create conditions that occur in nature.
A glass wall combines practicality with beauty. It creates a light and expansive ambience in your home.
Why not mix it up? A large glass wall can be created by installing operable windows in the lower or side sections and leaving the upper area as fixed windows, also referred to as highlight windows.
This combination could extend from the floor to the ceiling and run right around the walls of your home, providing an abundance of natural daylight and ventilation. Light play from the motion of the sun will change the mood of each part of the house.
Exposure to natural light is known to help boost energy and generally makes you feel better. At the same time, it regulates your natural circadian rhythms, so you sleep better at night.
Access to more light is not only good for your health, it's good for your finances too.
Thoughtfully orientated external windows allow plenty of natural light to stream in during the dark days of winter. As interiors will appear brighter and feel more comfortable, you are likely to use less electricity and reduce your energy bills.
Whether your windows overlook the sea, the bush, or your back yard, floor-to-ceiling windows can be positioned to add volume and colour to any space.
Just like artworks, you can use them throughout your home as living décor elements, making them the focal point of your rooms. Allowing you the luxury of simple and neutral interior décor.
Wideline floor-to-ceiling windows can increase air movement, usher in sunlight, and connect you with the landscape beyond the glass – the basis of biophilic design principles.
You'll be amazed by how many window design ideas and options there are. Speak with a Wideline consultant, from fixed floor-to-ceiling windows to glass doors that create a seamless flow to your alfresco areas, you name it, they can help.
Visit a Showroom or call 1300 943 354.