Keyless entry doors open up a world of possibilities
We know we go on about the design, styles and features of our doors (who could blame us!) but we also believe that the hardware – the handles, locks and hinges – are every bit as important.
Wideline Showrooms have a wide variety of handle and lock options including the latest smart access, fingerprint Bluetooth control entry hardware.
Here's where the technology gets exciting.
Do you still hide a spare key under the doormat or a flowerpot on your front porch? You know, those places where everyone looks first? Well, you can stop it. One of the best improvements that smart technology has brought to our doors is the ability to go keyless.
Introducing the new Australian designed Handy and Slim smart locks.
These keyless Smart Locks are compatible with most smartphones, tablets, and computers. So, next time one of the family is locked out of home, you can either send them an access code, tap your phone or simply ask your smart device to let them in for you.
In fact, our smart locks can provide access to your home in up to 6 different ways:
You can use Bluetooth to manage your locks from any room of the house, or your yard. When you're a long way away, our WiFi App allows you to provide immediate access or program locks to give specific people access at a pre-set time.
If you are at your door, you can enter a pin code, swipe a card or use your fingerprint to get inside. You can even revert to a mechanical key if that's your thing.
Do you want to allow specific people into your home and keep everyone else out?
Smart locks allow for complex programming. Friends, family members, or maintenance staff can be assigned special privileges. When they rock up to your door, they can be recognized via their smart device, their key code, or a biometric fingerprint scan. So, you can give your housekeeper access in the mornings, and babysitter access at night, and deny them entry at all other times.
Even better, your smart device allows you to manage a large number of locks, and keep your eye on comings and goings, from anywhere on earth with an internet connection.
Expecting guests? With the multi-level administrator settings, you can remotely monitor and manage your home's smart locks and assign new access codes when needed. They're great for the holiday homes and Airbnb's. You can create a one-time PIN, that expires when it's been used, to make sure your home is secure after your visitors leave. You can even check 'unlock' records for even greater peace of mind.
Let's not forget the elderly. We tend to become more forgetful as we age. Our loved ones may misplace their keys, forget to lock up or leave their keys in the door, making them susceptible to break-ins.
Being able to check and manage their doors in a host of ways means less worry for you. If a regular carer visits, you can issue PIN codes for them to gain entry. If there's an emergency when you're not near, it's quicker and easier for help to get to them.
When security catches up with technology, everyone wins… but the thieves.
Now as much as we love technology, when we are talking about our beloved doors, aesthetics are key (so to speak). You don't want your handles to look too bulky, industrial or techie, and detract from the style of your door.
The Handy H31B and ultra-narrow Slim S31B Smart Locks fuse form and function, so you can fully optimise your home without sacrificing style.
Handy H31B
Just say you want to enter your home from the back patio through a magnificent set of Paragon Wide Stile Doors with a secure keyless entry system. A Handy H31B Smart Lock will fit the bill, or rather the stile, perfectly. It's a commanding looking lock, forged from strong stainless steel with super sophisticated finishes of lustrous black, silver, or black with silver details. Just hold the handle and press your fingerprint to release it and bring the amazing experience of this smart lock to life.
The Handy H31B is compatible with Wideline aluminium doors: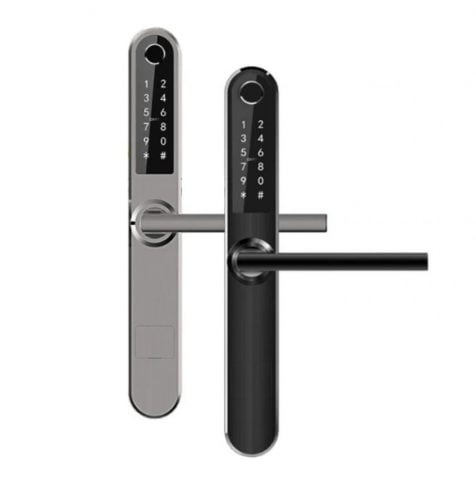 Slim S31B
If you are partial to standard Paragon or Horizon Entry Doors, French Doors or even Bi-fold Doors, may we suggest a slimmer alternative? The Slim S31B.
We can't get enough of its sleek look. With a backset at just 35mm wide it gives any door a chic, modern vibe. Everyone who has these beauties gracing their doors can't help but rave about them. They are available in Black or Silver so you can customise your look.
The Slim S31B is compatible with Wideline aluminium doors:
Paragon & Horizon Hinged Entry Doors
Paragon & Horizon Bi-fold Doors.
Have we opened your eyes to the benefits of Smart Locks?
It's true, they can make our lives simpler and more secure, and help keep our homes running smoothly. There's little else out there that unlocks both safety and convenience in such equal measure. So, throw away the keys and embrace smart tech living.
To find out more about how smart locks can improve your life. Speak to Wideline consultant on 1300 943 354 or come in and try the locks for yourself at one of our Wideline Showrooms.