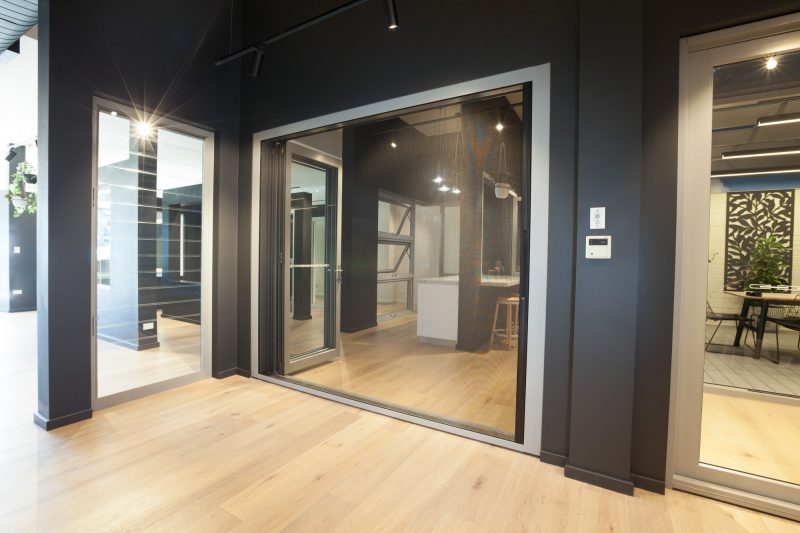 Make the most of transterior living with retractable screens
The hottest word in home design right now is "transterior". In other words, creating a seamless transition from indoor and outdoor.
Bi-fold doors that open up across wide expanses along with plants and other natural materials, are perfect for achieving the transterior effect.
"It's all about bringing the indoors outside, and the outdoors in," says award-winning landscape gardener Jamie Durie on the Domain website. "We want a much more symbiotic outcome, where buildings are more sympathetic to the landscape outside, and vice versa".
Wideline Bi-Fold Doors connect the two spaces beautifully. They offer uninterrupted outdoor views, a seamless transition from outside to in and flood your room with natural light and ventilation.
But how do you enjoy all the luxury of wide open bi-folds while maintaining your privacy, sun protection and most of all, avoiding unwanted pests, of the insect variety?
You'll find the answer at any Wideline Showroom: a fully retractable Centor screen system with no pleats or panel frames to impede the view.
Truly unique, the Centor screen retracts horizontally and discreetly into the door frame when not in use – a revolutionary solution for those who refuse to compromise on style. It is compatible with our aluminium bi-fold doors and bi-fold windows.
Or, choose a combo insect screen paired with a shade blind in the one frame to create a multi-function system, allowing for complete versatility of protection from insects or glare.
Only on display at Wideline Liverpool Showroom, the new retractable Centor screen and shade is a screening system that is one part insect screen and one part sun filter shade blind. Both the screen and shade roll out horizontally like a blind from cassettes integrated within the door frame.
The single panel insect screen glides across from one side protecting your space from unwanted pests, while maintaining the view, light and airflow. When the sun gets too strong or you want a bit of privacy, you simply pull the shade across from the other side.
The insect screen is made from transparent durable polyester/PVC mesh that is much stronger than a standard flyscreen. The shade fabric is available in light-filtering or blockout and comes in a range of neutral colour tones. At Liverpool Showroom you'll see it in light filtering Pewter.
The addition of both top and bottom tabs on the fabrics ensure shades are held taut in the frame and the insect mesh remains securely in place – even in a breeze.
Thanks to their unique load balancing technology, these retractable screens don't need to be spring-loaded or rely on awkward hand-brake mechanisms. At the touch of a fingertip they glide along discreet rails and stop at any position you desire.
They easily part-open to let people and pets in and out. And when they are not in use the screens tuck into their own discreet cassettes, hidden from view in the door frame.
Centor retractable screens are designed to complement our aluminium bi-fold doors, bi-fold windows, cavity stacking window and strut window. Find our product compatibility guide here.
You have to admit there's nothing like sitting inside in the cool of the evening with the doors open and the screen across, enjoying your garden, without the nasty bugs.
With customisable and made-to-measure options, we can tailor screens to suit your needs. But you can't really appreciate how good they are until you get hands on. So come in and try them for yourself at our any of our Showrooms today.