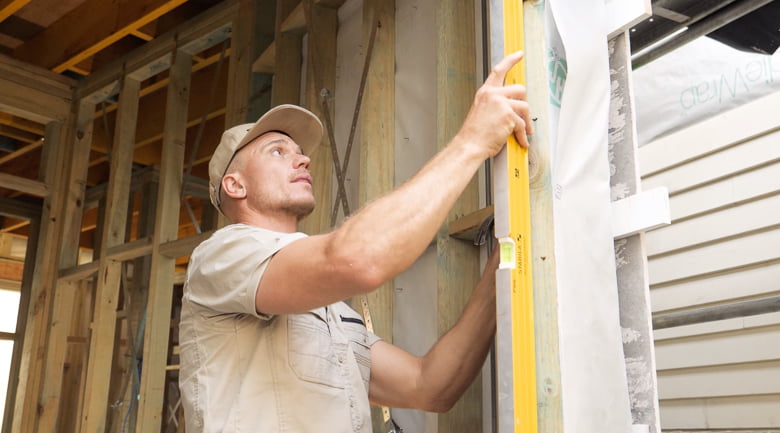 How to correctly measure a window
Hole in the wall size equals window size, right? What could be easier? Well not quite.
The bottom line is that there is more than one way to install a window. And depending on which method you choose, the points that you measure a window from may vary.
Did you measure the brick opening (from the outside) or the stud opening (from the inside)?
Did your opening measurement include the reveals?
How you answer could mean the difference between your brand new aluminium windows fitting first go or not fitting at all.
If you're unsure of some of these terms, the reveal is a surrounding timber frame that is fitted to the nailing fin of your window or door product, used for installing onto wall studs. In this way, the reveal becomes the internal frame which the architrave attaches to, to cover the gap between the product and plasterboard (or internal lining).
The dimensions of a reveal will depend on your application – brick, double brick, timber or steel. Refer to our standard reveal sizes sizes for more information.
The diagrams below serve as a general guide on how to measure a window. Even better, drop by our showroom and a consultant will show you, and answer all your questions as well.
Diagram 1: Brick construction

Diagram 2: Clad construction

It doesn't matter whether you are doing a renovation and need replacement windows, or if you are doing a brand new build. The best way to ensure that your windows are the right size is to ask your installer to give us the correct opening measurements for their preferred installation method.
When it comes to the quote, your Wideline consultant will make time to fully explain how we arrived at the window sizes before we confirm your order.
Our quotes are based on Aluminium Frame Size – so it's super important to get this detail correct. We often recommend that you take our written quote back to your installer. If they are not satisfied we can easily adjust the sizes before the order is confirmed.
Then you can settle back and enjoy the fun of choosing window styles, colours and finishes. We can even help you choose the best glass type for your windows depending on their purpose and where they are situated.
For more information on how to measure your windows or doors, contact us on 1300 943 354 or visit one of our showrooms.